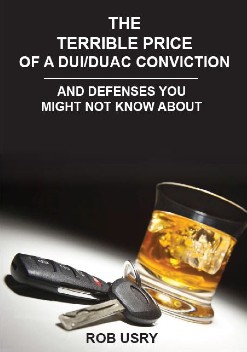 The Terrible Price of a DUI/DUAC Conviction and Defenses You Might Not Know About
Everyone knows what a DUI is, but few people seem to know how financially crippling and long-lasting the effects of a conviction can be. Few people know what a DUAC is, despite the fact this charge has become more and more popular in recent years.
Get Our Free DUI/DUAC Defense Book
In this brief book you can download for free below, written in non-lawyer language, Rob Usry reveals:
the extent of the penalties and problems caused by DUI/DUAC convictions.
what DUAC is and whether a DUAC conviction is any better than a DUI.
potential sentences for first-time and repeat offenders, including how fines are calculated and potential jail time.
other problems created by conviction, like license suspension, special drunk driving car insurance and ignition interlock.
how your license can even be suspended before your trial, even if you're never convicted.
Maybe most importantly, Rob shines a light on how many of these cases can be successfully defended, probably in ways you never knew about.
Download Your Copy Now by Completing the Form Below
We just need your name, email address, and phone number [we just want to confirm you got the book!]. Soon after submitting your request, you will receive an email with your free download. The order confirmation page also allows you to download it immediately.
Don't worry:
Requesting this does not create an attorney-client relationship.
Your submission is totally confidential.
We won't sell or trade your information to any third parties.