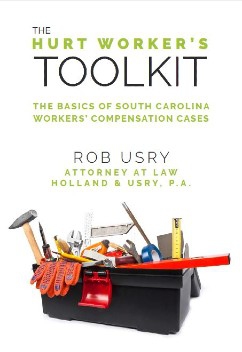 Getting hurt at work doesn't just cause physical pain. It can be embarrassing and even frightening. Being forced to confront the unknowns and the complexities of the Workers' Compensation system often makes it worse.
But knowledge is power. In this book, South Carolina workers' compensation attorney Rob Usry provides the tools you need to understand how the system works. Rob Usry is a workers' compensation attorney in Spartanburg, South Carolina. He's been working for injured employees since 2005.
In this book you will find answers to questions such as:
What benefits can I get from workers' comp? (page 13)
If I use workers' comp, will my employer have to pay all my medical bills? (page 15)
What are some ways I can protect my rights under workers' comp? (pages 17-25)
Why can't I just go to my own doctor? (page 26)
Do I get any income if I miss work? (page 30)
Can I qualify for medical care after my case is over? (page 41)
How does a typical settlement work? (page 57)
What should I do before hiring a lawyer to help me? (page 64)
You'll also learn some things that may surprise you, like:
The key witness no one thinks about. (page 32)
What "total and permanent disability" really means under workers' comp. (page 43)
How To Get Your Free Downloaded Book:
We just need your name, email address, and phone number [we just want to confirm you got the book!]. Soon after submitting your request, you will receive an email with your free download. The order confirmation page also allows you to download it immediately.
Don't worry:
Requesting this does not create an attorney-client relationship.
Your submission is totally confidential.
We won't sell or trade your information to any third parties.